NetTimer is a utility that monitors dial-up Internet connection and measures the time spent on it. It keeps an account of the phone bill that will be incurred due to the connections. This program can start with Windows startup or as soon as the computer is connected to the Internet. Generation of reports is also possible.
---
Features of NetTimer:
Supports Microsoft(R) Windows 95/98/ME/NT/2000/XP
Ability to startup with windows
Ability to start as soon as connected to the Internet
Background connection monitoring
Alarm Feature
Alert feature to warn if a month bill or time limit is crossed
Start/Stop monitoring the connection
Connect/Disconnect any dial-up-connection using NetTimer
Operates from system tray icon
Display of information on middle click on system tray icon
Ability to enter records for unmonitored internet sessions
Keeps a log of all the connections during the month
Keeps a month by month log of all previous months in the year
Generation of reports
Displays time remaining in the next call or telephone pulse
Make new Dial-up-connection using NetTimer
Uninstallation facility
---
Screenshot: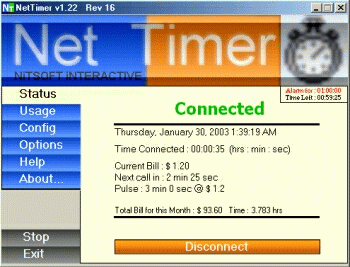 ---
Version 1.22
Added month Bill Alert feature
Added month Time Alert feature
Display of accumulated time for month
Version 1.21
Fixed bug related to update of log file
Improved implementation of Background monitoring
Version 1.2
Added feature for generating reports
Added Help button on main window
Fixed Major bug in Background monitoring
(in some cases initiated an infinite loop)
Fixed bug in Alarm downcounter
Other visual enhancements
Several other minor bugs fixed
Added Alarm feature
Added detailed Help file / Manual.
Automatic detection of a new user.
Iconic system tray menus.
Middle click options also available in right click.
Fixed BUG related to Start/Stop Monitoring (gave "runtime error number 6" in some cases).
Corrections made in pulse time values.
Some other minor bugs fixed.
Version 1.0
This is the first version of NetTimer.

---

Download NetTimer v1.22 Now
size: 690KB
!! Please uninstall earlier version of NetTimer and delete the NetTimer folder before installing New version. Log files of NetTimer v1.21 or below are not compatible with NetTimer v1.22. So delete old log files first.
---
Known Issue with NetTimer
If you are unable to configure NetTimer and it gives "Runtime error 11' then NetTimer download this patch. Just unzip this file and double click. When asked whether to add data to registry say yes. Then open NetTimer and press configure to configure it.


Download NetTimer Patch
size : 1 kB
---